Interview for Huffingtonpost on Greek austerity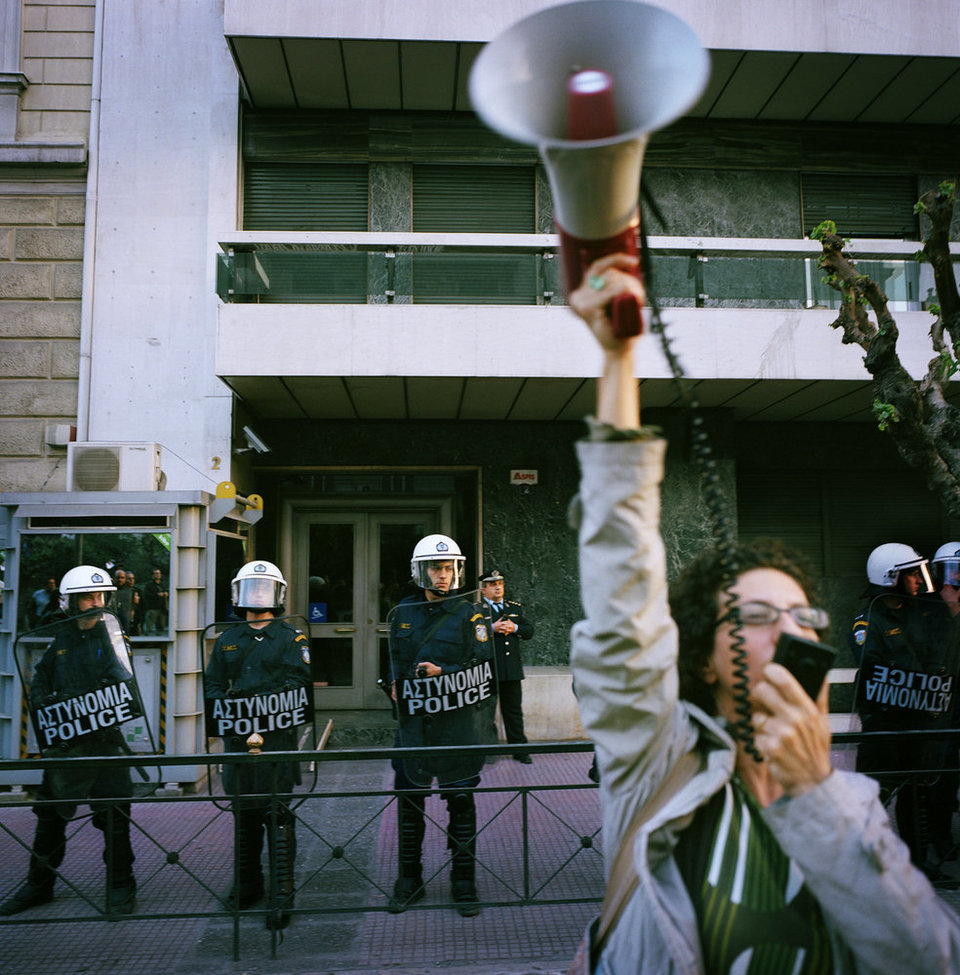 A Photographer's Journey To Capture Greece's Spirit During The Crisis "I personally admire the Greek people for their strong resilience and capacity to keep pushing despite any difficulties."
ATHENS, Greece – On April 23, 2010, Greece's then-Prime Minister George Papandreou addressed the world from the small Greek island of Kastelorizo. Papendreou compared Greece to a sinking ship and asked his European partners and the International Monetary Fund to come to the country's financial aid.
Soon after, international media and journalists, cameramen and photographers poured into the country to document the demonstrations and reactions of the people to the austerity measures implemented by the Papandreou government.
Italian photographer Alfredo D'Amato was one of the reporters documenting the anger and fear — as well as the resilience of the Greek people during the crisis.
Why did you decide to cover the crisis in Greece?
Through the photo reportages I produced on austerity in Greece, I wanted to gauge the effects of the crisis on people's day-to-day lives, characterized by the impossibility to predict their future. I was observing the crisis from Italy and then decided to focus on the country that was hit first by the crisis to see how its face would be changing as a consequence of the hardship.
What struck you the most about the Greek capital, Athens?
I saw Athens as the main mirror reflecting the political and economic situation in the country. By observing people's ordinary life in the city, it was visually remarkable to see the extent and the speed with which the crisis affected the quality of life.
What do you think of the Greek people?
I personally admire the Greek people for their strong resilience and capacity to keep pushing despite any difficulties. Moreover, perhaps as a consequence of being Sicilian, I was feeling very familiar with their ways, traditions and generally their way of living.
What makes you different from other photographers?
I suggest that you'd rather ask my followers what they think about me as a photographer. On my part, I would say that a photographer is someone who shapes the language of his own photography and this language stems from his social and cultural background, his way of expressing emotions and perceiving people, environment, events. In a nutshell, a photographer is someone who re-represents reality in his own language.
Which photographers have been your major influences?
At the beginning, my photography was reflecting the context where I started as a photographer, the traditional western European photography, such as that of Mario Giacomelli, Henri Cartier-Bresson, Don McCallan. Later on, when I moved to the U.K. to study photography, it was mostly American photography that inspired my way of seeing the world around me and taking pictures. Photographers I could mention as influences are Robert Frank, W. Eugene Smith and Alec Soth.
The full article is written by Stefanos Nikitas
(This story was originally published on HuffPost Greece. It was translated into English and edited for a global audience)